Achieve Atlanta Announces Incoming President/Executive Director: Dr. Cheryl Watson-Harris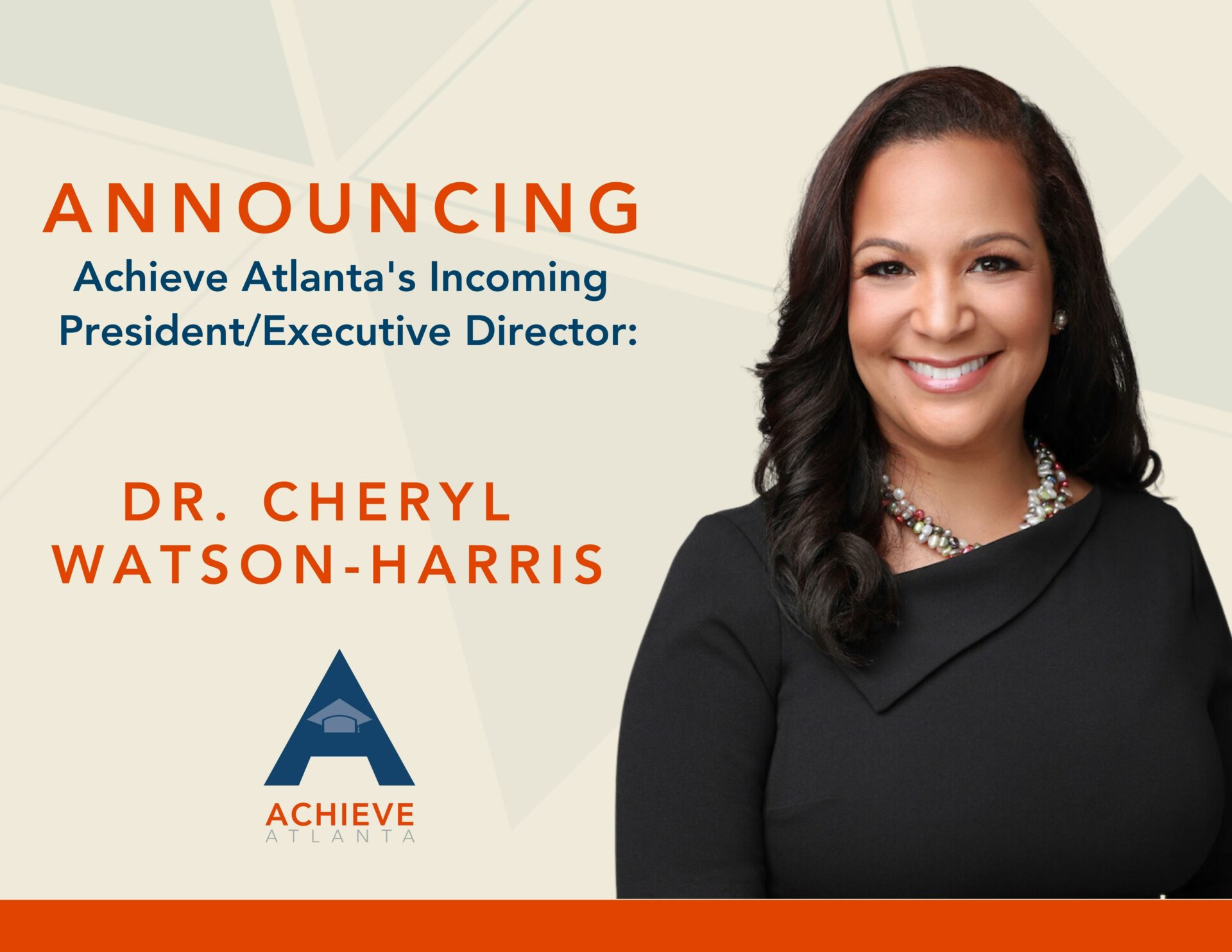 After an extensive national search, the Achieve Atlanta board and staff are excited to announce Dr. Cheryl Watson-Harris as our incoming President/Executive Director. Dr. Watson-Harris' impressive career as an educator, administrator, and community leader is grounded in Achieve Atlanta's vision, making Atlanta a city where race and income no longer predict postsecondary success. Dr. Watson-Harris is set to start at the beginning of May. 
Dr. Cheryl Watson-Harris is an exceptional educational leader with three decades of experience in and out of the classroom. She's drawn praise for her innovative leadership style that improves employee engagement and capacity throughout organizations and positively impacts student achievement. Dr. Watson-Harris will leverage her demonstrated effectiveness in family engagement and community partnerships to strengthen our cross-sector approach and the work of Achieve Atlanta and its partners. 
"Our partnership with Achieve Atlanta has been extraordinary and extremely rewarding for Atlanta Public Schools. I'm excited about the naming of Dr. Watson-Harris to lead Achieve Atlanta's work—she deeply understands the importance of the investment in our children's future and the critical work tied to preparing them for postsecondary education." –Dr. Lisa Herring, Superintendent, Atlanta Public Schools
Raised in New York City, Dr. Watson-Harris started her teaching career in 1993 in Brooklyn, NY and in 1998 became the youngest principal in Boston Public Schools history. She served as a principal for 15 years and was promoted to Network Superintendent before rejoining the New York City Department of Education (NYC DOE). Watson-Harris served in many leadership roles at the NYC DOE and was promoted to First Deputy Chancellor in 2018, the second in command of the nation's largest school district that serves 1.1 million students. In 2020, she became Superintendent of Georgia's third-largest district, DeKalb County Schools, where she successfully led the district's reaccreditation and increased the number of cross-sector partnerships for the district. Most recently, Dr. Watson-Harris co-founded Urban School Specialists, a consultancy that provides support and services to large urban districts and executive leadership coaching to education and nonprofit leaders. 
"Dr. Watson-Harris' deep knowledge and experience as well as her caring for those we serve is evident in every aspect of her being. We're fortunate to have her leadership to build on Achieve Atlanta's successes over the last seven years. We also thank our dedicated staff and partners who served our scholars–without missing a beat–during this transition." –Claire "Yum" Arnold, Achieve Atlanta Board Chair
Dr. Watson-Harris has a wide range of expertise in the college access space. In Boston Public Schools, the New York City Department of Education, and the DeKalb County School District she strengthened the My Brother's Keeper (MBK) initiatives within these districts. She's also the founder of the Girls' Empowerment Movement (GEM) which empowers girls to own their leadership stories and pave a path to postsecondary opportunities.  Both MBK and GEM students were supported with college visits, mentorship, scholarships, and grant opportunities. In addition, she fostered the learning environments that contributed to the success of the "For All" Initiatives at the NYC DOE, such as AP for All and College Access for All, and partnered with the College Board and higher education institutions.
"Dr. Cheryl Watson-Harris is an ideal choice to lead Achieve Atlanta not only because of her significant experience working in school districts, but because of her passion for all of the young people and the community Achieve Atlanta serves. We are eager to work with Cheryl to improve and grow Achieve Atlanta." –Russ Hardin, President, Joseph B. Whitehead Foundation
Cheryl Watson-Harris has received numerous educator and leadership awards. As Leading Now's Superintendent in Residence, she mentors and supports the next generation of district leaders and has served as an advisory member and director of several non-profit boards. Watson-Harris holds degrees from Fordham University, Harvard University, and New York University and is a proud member of Alpha Kappa Alpha Sorority, Inc. 
Dr. Cheryl Watson-Harris is driven by her belief that every child deserves access to a great college education as well as support through their higher-education journey. College access and success is a deeply personal topic having been one of the first in her family to go to college and navigated the application process mostly on her own. A graduate of public schools, Dr. Watson-Harris is a proud mom of three with two currently enrolled in college and her youngest currently completing his junior year in high school and on the precipice of the college application process. Education is a family affair in the Watson-Harris household as she also has two "bonus children" who are a kindergarten teacher and an IT specialist in the ed-tech space. 
With Dr. Cheryl Watson-Harris as the next President/Executive Director of Achieve Atlanta, we are excited to begin planning for the 2023-24 academic year. We look forward to her leadership as she joins our team and carries forward the work led by our Founding Executive Director Tina Fernandez, taking Achieve Atlanta to even higher levels. 
---
Authored by