Achieve Atlanta Receives $8 Million Investment from MacKenzie Scott
We are excited to announce Achieve Atlanta has received an $8 million gift from philanthropist MacKenzie Scott! This investment is an affirmation of our cross-sector approach and the work Achieve Atlanta and its partners do to help Atlanta Public Schools (APS) students access, afford, and earn postsecondary credentials. 
Since our founding in 2015, we have been laser-focused on our vision—making Atlanta a city where race and income no longer predict postsecondary success and upward mobility. Our ongoing efforts, made possible by the generous support of the Joseph B. Whitehead Foundation, have served more than 15,000 APS high school students and nearly 4,500 Achieve Atlanta Scholars who have attended college at over 300 higher education institutions across the country.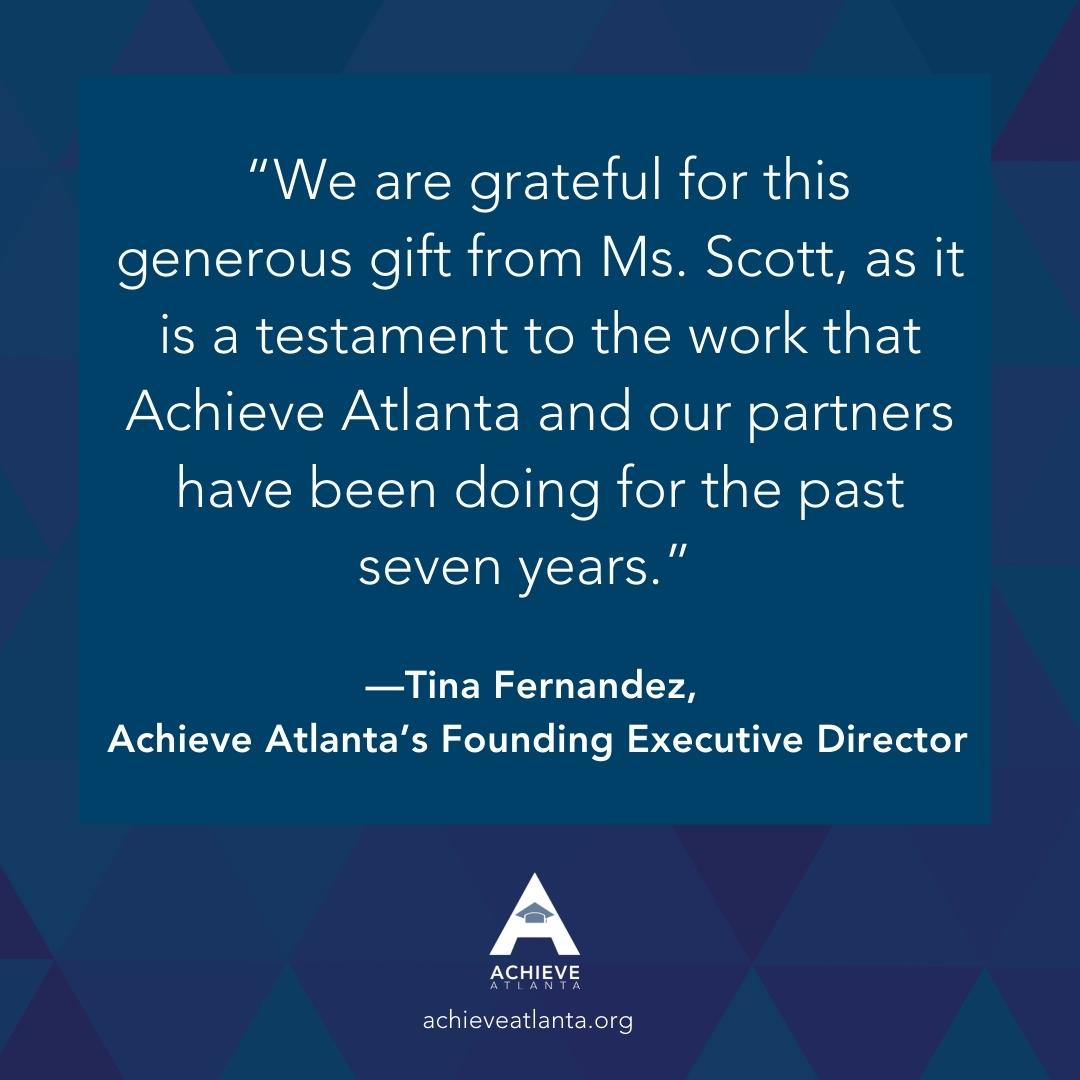 As we share in our new impact report, our dedicated staff and partners have continued to support students on their path to and through college, while also adapting to meet our Scholars' evolving needs due to the pandemic. In addition to providing the Achieve Atlanta Scholarship and advising supports, we have guided students to free, confidential, short-term counseling, provided hundreds of emergency grants, and supported graduates' transitions to the workforce. 
A soon-to-be-released independent analysis conducted by Georgia State University's Georgia Policy Labs finds that Achieve Atlanta's scholarship and support services have increased students' ability to persist in college and earn their degree, compared to similar students who did not become Achieve Atlanta Scholars.
This gift will strengthen our ongoing efforts to support APS students and Achieve Atlanta Scholars, and we are committed to being good stewards of all the precious resources we receive. In the coming months, Achieve Atlanta will kick off a process to engage stakeholders about how to increase its impact, including how to best leverage this generous donation.
---
Authored by