Phase I was survival. Phase II was the blues. Now, it's time to get back to our values and get on with life in the COVID-19 era.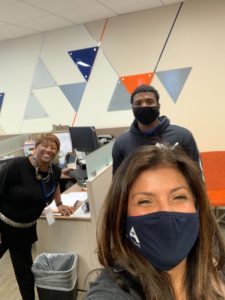 It's month No. 6 of the pandemic and we've been working remotely since March 13. During the first few months, I mustered all my energy and focus into leading Achieve Atlanta through the COVID-19 crisis and meeting our students' emergency needs. My main priority was to "protect the core" and ensure that we were financially stable, that my team had what they needed to manage their personal and work responsibilities, and that we stripped away all "unnecessary" work and allocated all our resources to the programs and services that would have the greatest immediate impact on our students.
With things changing almost daily, we couldn't plan for the long-term and moved to setting weekly priorities for our organization. Looking back, it was the right approach. Through the heroic efforts of our team, we made it through those critical first months. We converted our Scholar events and support sessions to virtual online events, helped students and partners finish the spring semester, and worked through the summer to support our stakeholders and, ultimately, our students so they could successfully enroll at colleges for the fall semester. I'm proud of what we accomplished under trying circumstances.
But after the adrenaline rush of managing a crisis subsided, fatigue set in. I felt unmotivated, exhausted, and in a steady state of brain fog. I sensed these same feelings from my team, some of whom I haven't seen in person for six months. Is this all there is? Are we locked into a state of holding on, of suspended animation, until a vaccine is widely available? How can we continue to operate at a high level and serve our Scholars when we are permanently beset by the pandemic blues?
In addition to the work ennui, in my own personal life, I felt disconnected and lonely. I am the consummate extrovert and, though I am blessed to have a wonderful husband and family, I missed my broader community. I missed the organic conversations over cubicles and across hallways. I missed the chance encounters at a coffee shop with colleagues and friends. My knees and shoulders ached, my clothes pinched in new places, and my eyes were dry and itchy from all the blue light they consumed from hours of screen time. The pandemic had me trapped, physically and mentally.
Initially, we thought the COVID-19 disruption would last a few weeks, then a few months. Now, it's clear that we've been cast into this purgatorial existence for a while. But beneath the crushing weight of uncertainly, my soul is stirring. One recent afternoon, it hit me: "Stop waiting for things to go back to normal. This is the new normal. Life is still happening and you can still have a say in how you live."
Slowly, I have started reincorporating things into my life that fill my soul. I'm taking socially distanced walks with friends and colleagues. I'm going into the office two days a week and have asked my assistant to come in with me (adhering to all safety protocols, including masks, hand-sanitizing, and staying at least six feet apart). And I've started allowing myself to want a bigger existence for Achieve Atlanta and for our Scholars, too. To serve them, I cannot live with a scarcity mindset, believing there is too much uncertainty to hope for more. I have to be confident that what I have and what I know is more than enough to move forward.
During the shutdown, I've been taking an online course taught by Timothy Kenney, author of Accelerated Learning for Entrepreneurs. On Friday, the topic was situational awareness. Situational awareness is a framework for making good decisions across a broad range of situations. The formal definition is being able to perceive the variables in a particular environment, comprehend the situation, and project a future state. In his lecture on the topic, Kenney refers to the famous scene in the movie The Bourne Identity where Jason Bourne is sitting in a diner trying to figure out who he is. Bourne is confused about why he can observe and process numerous details about the people in the diner. (Note: If you haven't seen the movie, you can see the clip of this scene, entitled Why Would I Know This?, here.)
Kenney's point was that we encounter familiar situations every day and have "scripts" for understanding what can happen in a given situation. If we're good at this, we can use these scripts to make good decisions. Those who are especially innovative or creative can assess a situation using multiple frames of reference.
As I listened to the lecture, it hit me that we find ourselves in a never-before-experienced situation and have no script for how to live, much less how to thrive in this pandemic. In trying to make sense of this new world, we're letting others fill in the script about how we engage with ourselves and with others. For me, too, much of this script is centered on fear, loss, and isolation. For sure, we've lost a lot and there's good reason to be afraid. But we will never thrive if we stay in this space.
At work, we've started to see some of the warning signs of this scarcity script: a slight but noticeable fraying of our culture, a hesitancy about asking more of others for fear of overburdening them, and perhaps even a reticence to ask more of ourselves. To counter this climate of apprehension and hesitation, we've taken a hard look at our core values to help guide us.
One of our core values is Expectation of Excellence. At Achieve Atlanta, we assert that excellence requires effort, tenacity, responsibility, and integrity, which lead to high-quality work. It is the standard we set for ourselves and the model we aim to demonstrate to students and our community of stakeholders.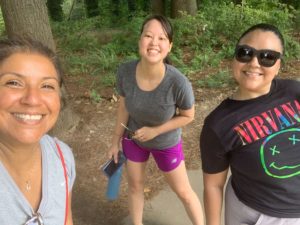 In spite of our current reality, this is still a value we cherish. So now is the time to lean into it – not out of ego, but because we are committed to be Champions for Students, another of our core values. With our students' dreams as the foundation for our work, we have committed to breaking down systemic barriers, earning our students' trust, and building capacity so that, ultimately, our students can be their own champions. We do this because we have an Unwavering Belief in our students. They are the inspiration and fuel for everything we do.
This must be the script for how we will work – COVID-19 or no COVID-19 – at Achieve Atlanta. We may not have lived in this particular situation before, but by leading through our values, we don't have to wonder, like Jason Bourne, who we are. We are the people who believe in Intentional Collaboration to solve problems. We are the ones willing to take risks to Continuously Innovate in our work. We are the team of problem-solvers who Believe. Expect. Achieve. Together, we will write our own script, and in the process, find our way back to ourselves and each other.
---
Authored by